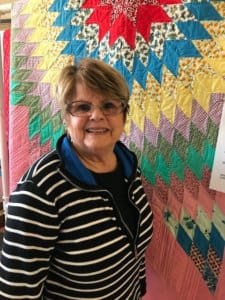 Our Senior of the Month is Sharyn Close for December, 2018.  Sharyn was born in 1943 in Hayward, CA.  She has one daughter, Sheri, who lives in New York with her three children who are grown now.   All three were home-schooled and the youngest, who is 18, is an Eagle Scout, no small accomplishment!  Sharyn paid Sheri the highest compliment from a Mother to a Daughter.  She said, "Sheri is a wonderful person and I would like to be like her one day!"  Pretty high praise!
Sharyn has been married to Jerry for 55 years and they love it in Eagle Point!  Both Sharyn and Jerry were in the real estate business.  He as a mortgage banker and she as a manager in the escrow department of a real estate firm.  They were 7 years in upstate New York and moved to Eagle Point in 2003!  When they moved to New York, Sharyn was the first one in her family to ever leave California!
Sharyn is the President of the Eagle Point Women's Club which is a social club 190 members strong. She loves being this position and working with such wonderful women.  The Club is a means for women who reside with an Eagle Point address to find friends and activities! She loves when she is able to find a woman who is lonely and point her in the direction of the EPWC.  These women many times become members of our group and find companionship and activities.   It has worked and the EPWC has branched out to be an integral part of the community.   Last year the EPWC formed a "Kazoo Band" and, while they won first prize two years ago in the Fourth of July parade, they had to take second place to the Blue Knights who came in from Colorado and are quite famous!  The EPWC, under Sharyn's leadership, hopes to take first prize from the Blue Knights this year!  Blue Knights be warned!!
Sharyn is also a Neighborhood coordinator for the Eagle Point Food Project.
Sharyn has gained some insight in her years on this earth.  She says her advice is to "Treat others like you want to be treated.  Be kind.  Have more love in your life!"She takes every day as a blessing   Good advice
for anyone.  Sharyn also is a big fan of having fun!!