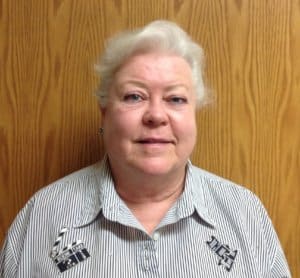 Let's get acquainted with Marilyn Arnold – Marilyn was a weekly Bingo player and decided to join the Senior Center.
She was born in The Queen of Angels Hospital in Los Angeles, CA on November 26, 1950.  She is the oldest of four children, with 1 brother and two sisters.
Marilyn and her husband Cris will be married 35 years in June.  They have a son, Seth, 32 and a daughter Sarah, 31.  Seth has a BA in computer forensics and works for Disney Studios, and thinking about working for Princess Cruises; Sarah is a medical assistant and is married to a medical assistant.  Sarah has blessed the family with a Granddaughter, Abagayle (Abby) and that is the reason for the move from O'Brien to Eagle Point in May so they could be close to Abby.
Marilyn started working for "Ma Bell" when she was 17 and worked for them for 18 years.  She's also had several home-based businesses.
When asked what her most interesting thing that has happened – she recounted that her husband, who worked for several major studios as a Teamster driver, made it possible for her to go to Browning, Montana for four days over the 4th of July.  There she met Robin Williams.  He's a lot smaller than I thought, she said but was so very gracious and nice.  He made everyone feel welcome.  They had a huge 4th of July BBQ with fireworks everywhere.
She says her biggest accomplishment was raising their two children mostly on her own.  Cris's job as a driver meant that he had to be first on a job site and the last to leave.  They were both very happy when he was able to retire and reunite their family in 2009.
In February 2018 Marilyn fell, hurt her back, broke her left shin, right arm and had quite a few facial bruises.  She's working on getting back to how she felt before the fall.
Words of Wisdom – "the grass is not always greener" in many situations in life.
I'm looking forward to getting my health back.  My daughter has challenged me to walk around the golf course without my cane.  My goal!