September has Linda Gonzaga as our Senior of the Month.  She was born May 12, 1956 in Roseburg, OR, the fourth child of five and the second girl.  Her Mother stayed at home and cared for 5 Italian "little brats".  Her Father was a miner at Hanna Nickel Mine in Riddle.  A good childhood and learning from mistakes makes her an honest woman.  Her middle brother, Carmine, died many years ago from injuries suffered in a car accident.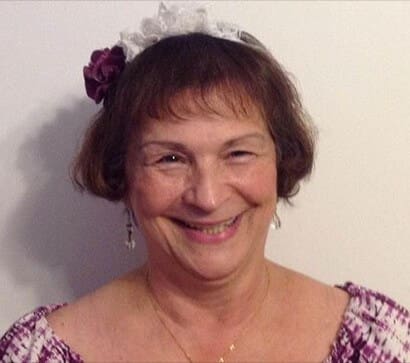 Linda has two children, 5 Grandkids and 1 Great Granddaughter, Grandma's pride showed through as she spoke of them.
When she was 20 she cared for a friend's mother which led into the career of care giving.  She's also worked at Marlin Boat Works in White City, 10 – 12 years ago inside the boats to make sure they were polished and ready for a buyer.
Five years ago she joined the group known as "The Red Hat Ladies".  This group wears Red Hats and Purple dresses. "It's a license for women to play" They like to travel and make their own ensembles that they wear to their conventions high teas and "Steam Punk" (take past items and drag them into the future).  She's called the "girly girl princess".
When asked what her biggest accomplishment was – she stated "I'm 62 – I made it!  She's grateful and thankful."
She's a prankster – poor William (her husband) and Joyce Beeney (her best friend) are her targets.  Watch out!
Her philosophy is when you're with someone (whether you like them or not) whether they are black or white, tall or short, big or little, from toddler to elder they are human – treat them as such –  we all hurt and bleed the same.
Joy is in my heart!  Looks forward to seeing her Great Granddaughter.