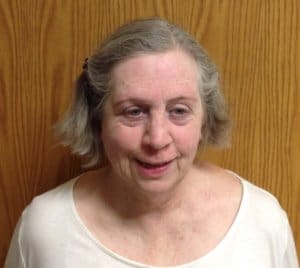 The Camp Fire that ravaged northern California brought us one of our newest members.  She lost everything in that fire – only the ground where her house remained.  She fled with the clothes on her back and her dog, Reggie.  She now lives with her family here in Eagle Point.
Kathryn was born in San Francisco in May 1946.  She was raised in Sausalito, CA.
She has one older brother who lives in central California and a cousin in Pennsylvania.
Married twice, and widowed twice, she has two daughters and two grandsons.
In 1970 she graduated from Sonoma State University with a BA in Art and Liberal Studies.  She went back to school after her daughters were grown to get her teaching credentials.  Juggling a work schedule and going to school was a challenge that she accomplished.
Being a teacher for 10 years at a high school in Salinas, CA with "at risk" students proved to be another challenge.  Currently, she volunteers at Eagle Rock Elementary through the Foster Grandparents program.
Kathryn's words of wisdom go something like this – "Take time to stop and smell the roses and feel the rain on your face.  The best recipe for a happy life is to do an act of kindness every day."
An animal lover she has cats and a dog along with a goat and a miniature donkey to mow the lawn (just kidding about the goat and donkey)  Rain or shine, she loves spending time "puttering" outside in the yard and discovering the beauty of the Oregon coast.