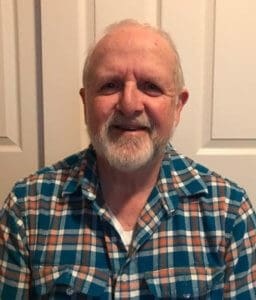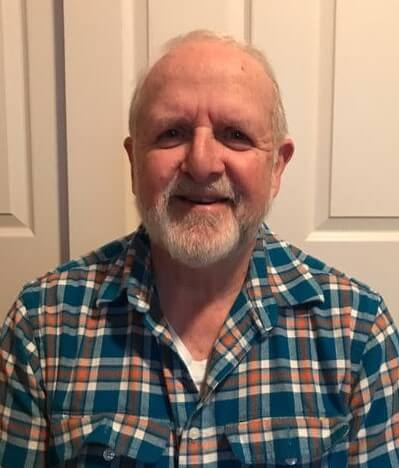 The Senior of the Month for April, 2018, is Bob Heaton. He is currently serving as your Treasurer at the Senior Center. Bob was born on July 14, 1948, in Denver, CO. He says he is a "native" Oregonian, even though born in CO. His family lived in Oregon, and he would have been born there, but the house was washed away in a flood. His very pregnant mother had to stay in CO at his grandparents' house. It is also Bastille Day so Bob will point out that the entire country of France celebrates his birthday with him!
He was a Federal employee for 33 1/2 years; 15 with the Forest Service in Oregon, Arizona, and Southern California, and the rest with the BLM. He was in the Navy for two years, 1969 and 1970. He learned to speak Russian while in the Navy and as you will see that opened up new horizons for Bob.
Bob has one older brother, Ed, and one younger, Dave. Bob has had 3 marriages and 4 children altogether. He loves to golf and to kayak.  He just bought a trailer to carry the kayaks to the waters that will provide a pleasant kayaking experience.
His college experience includes a major in Russian and a minor in Physics. Yet he worked his entire career in Business Management!  Go figure! He did have several occasions that he was called upon to interpret. He was contacted by the Portland Oregonian to provide that service for the first grain exchange in the country. When he was at university he was called to interpret in an exceptional circumstance.  A Russian soldier was knifed aboard ship off the Oregon coast (don't ask what the ship was doing there) and was airlifted to a medical facility. Bob interpreted for the soldier and for the medical staff, sometimes making lists with both languages so both parties could communicate by pointing to a word and the cross reference was right there!
He tells me that the most interesting time of his life was when his Grandparents took him the summer before second grade. He was their favorite as he was born there and his folks let him go since they were financially strapped at the time. But they couldn't stand not seeing his smiling face so they went and got him before second grade was even finished! That year was very formative!
Bob's biggest obstacle was overcoming his fear of public speaking.  (Hard for us who have heard him to believe!) He was petrified of speaking in front of people but he knew that he had to get over that if he was going to be able to pursue his dreams. So, he did the work. He joined Toastmasters, the Masons, and got the job done, as we can attest!
Bob's biggest accomplishment was, with his wife, Jeanne's guiding hand, creating an environment that actually helped their kids survive. Those children were a challenge. At one point, Bob and Jeanne, were forced to stay in a hotel out of fear for their lives. One of the children stole over $1,000.00 from a drug dealer and the dealer knew where Bob and Jeanne lived! Yikes!
Bob says that his years on this earth have taught him many things, one of them being that there is no such thing as Murphy's Law. Bob believes that it is a negative way to look at everyday experiences. Murphy's Law does not exist!
What Bob is hoping for in the future is to take Jeanne on a European Cruise. Maybe the Baltic or the Mediterranean . He has been there but he wants to take the person he loves the most, Jeanne.