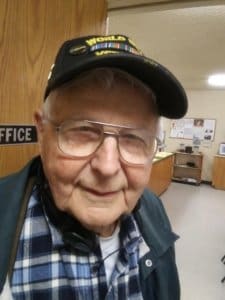 Vance E. Strunk is the Senior of the Month for November 2018.  He was born in October 1924 and has spent his entire life in Oregon, a true native.  We found a common bond early in our conversation.  Vance's Dad, who was born in 1869, did so in Shawnee, KS.  Almost 80 years later, the author of this article, Margy Nickelson, was born in Shawnee, KS!  Small world!  Vance told me that he was born at Mercy Hospital in Eugene and when the nurses saw what they had brought forth, they got everybody out and set the building on fire!!
When he was 4 years old, Vance followed his Dad everywhere and one day Dad said "no" so Vance stayed behind far enough to be out of sight and followed anyway.  When he got to the stream, he was afraid to go across so he found a log, put a bit of moss for a pillow and went to sleep on that warm afternoon.  When his Dad got done, he walked back to the house without seeing Vance.  They all sat down to dinner and that was when the family noticed that one of them was missing.  So, they went back out in the dark, with a lantern and the dog, Jigs!  They passed him once and again on the way back up but Jigs found him on his log and he got home safe.  When he was 9, his Dad told him not to, so Vance went out to ride the colt.  He threw the saddle on him and the horse kicked him in the hand.  It hurt so bad, he laid in the hay and cried for two hours.  He had to get up and get over it, as he was afraid his Dad would find him!  When Vance was 11 years old, he and his sister, who was 8 at the time, were out spotlighting Jack rabbits when a deer walked into the light.  He shot the deer with a 22 and he and his sister drug it back to the barn.  They found the gamble stick, attached it to the animals' feet, but were too short to lift it up.  Dad came out and helped them get it lifted and they were able to skin the carcass.  It was during the Depression so that was one valuable deer!
Vance was married to Ruby in 1943 and the marriage lasted 65 years.  This long and loving relationship produced four daughters (all retired), eleven grandchildren and, as Vance says, "more great grandkids than I can count!"  Ruby passed in 2008.  His birthday is on October 8 and most of his family was able to spend it with him while he celebrated being 94 years young.
Vance joined the Navy in 1943 and was stationed at the 13th Naval District at the "Bore Site Range" outside Sanford, Florida.  He worked his way up through the ranks and got to be in charge of the entire operation.  What they did was correct problems with the machine guns on board airplanes.  Those guns had to be able to hit a two-foot target at 900 feet.   He was discharged in 1946, three years after he was married.
Vance was electrocuted once in 1959 and it is by the grace of God that he exists!  He had a Gravenstein Apple tree and his daughters liked to climb up there and get those delicious apples.  Vance noted that the power line was going right through that apple tree and the branches that touched it were turning black and looking charred.  So, he called the power company and they could not elevate the line, as he asked, but instead said they would put it out of service.  But they cut the power on the wrong end of the line.  Vance was moving some irrigation lines and, as he was holding the pipe, he came within 18 inches of the power line.  It arced over and the electricity went through Vance and came out his feet!  He was badly hurt!   He spent 3 weeks in the hospital in Eugene (not Mercy) and then was flown to San Francisco, accompanied by a nurse, and remained in the hospital for another 5 and a half months!  The treatment was as bad as the injury!  His feet had holes in them the size of lemons!  A lot of "meat" in his feet was dead so they placed a compress on the wounds and bound them extremely tight.  After a long time, they pulled those off, "with the dead meat hanging" and the pain was so bad that Vance was lifting an orderly and two nurses off the floor by kicking so hard with the pain.  After two "hypos" he had gotten through the worst of it!  He had a nurse who at 63 was full of sympathy for Vance and she would leave him a piece of meat in his bedside drawer (the only good meal of the day was lunch in the hospital) and she would bring him huge glasses of eggnog every day.  He has not forgotten that bit of kindness.  People need to remember kindnesses more!
Asked what his greatest accomplishment had been, he said he bowled a 300 at age 80!  In a league!  As a professional!  And he had the ring to prove it!
His words of wisdom are, "In life, do the best you can.  And if you make a mistake, apologize.  Stay happy.  Being mad shortens life!"  What Vance looks forward to is seeing his wife and many other family members (he is 94 remember) in heaven.