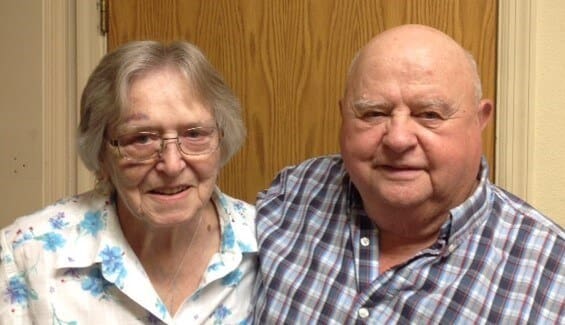 Elizabeth was born in Everett, Washington in 1933.  She had 2 brothers and 1 sister.  Jim was born in Madison, Wisconsin in 1934.  He had 2 brothers.  Elizabeth took care of her brother that was 5 years younger.
Jim and Elizabeth went steady for 27 years before they married November 24, 2018.  Jim had been divorced with 4 children that he adopted and had two more with his first wife.  Elizabeth was a widow with twin girls and one son.
They came to Bingo as regulars and everyone cheered when they learned that the marriage had taken place.
When Jim was a senior in high school he played football and was voted MVP.  He was offered three scholarships.  The University of Wisconsin offered him a full ride, but he turned it down and enlisted in the Navy.  He thought he wouldn't be able to go to school and support himself.  After 4 years in the service, he went to school for 6 years and then became an entrepreneur.  He specialized in precision sheet metal, industrial paint design and engineering.  He started a computer company, color monitors, voice module and introduced HD.
Elizabeth spent her career in clerical jobs – mostly Accounts Payable.
Jim has invented many items used in the Silicon Valley and his biggest obstacle was trying to figure out how to market them.  He was known as "Dr. Jim" – the problem solver.  He also holds 7 patents.
Jim says that Elizabeth is the best thing that has ever happened to him.  (She blushed).
Both Elizabeth and Jim said to face life and smooth out the rough spots.  They try to live by the "Golden Rule".