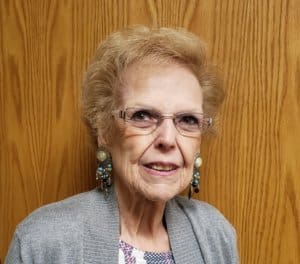 Doris told me she was born in Oklahoma City in 1936.  There were eight kids in her family and she was fourth in line.
Married more than once, she had no children.
She worked in the food service industry for 35 to 40 years and then did home health care for a couple years.
She moved back to Oregon in 2007.  Spending Mondays with her sister playing Bingo is the highlight of her week.  She has the nickname of "Matilda" and her sister is "Gertrude".  They call Suzi "Pruney".  They sit at the same table every week to listen to the music and then play cards till it's time for Bingo.
When she started going to church – she knew she'd come home.
Asked what her biggest accomplishment was, she stated being married for 35 years.
She's learned that her family and her church family are important to her.
As I finished this interview she was in a hurry to leave for a family reunion the end of June, saying she would be back by July 7th.  Save her place at Bingo – she will return.