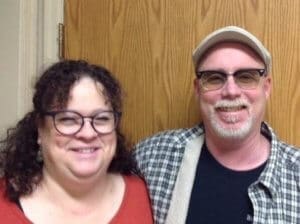 Ruthie was born a tiny preemie at 4# 3 oz in April of 1969 in Redwood City, CA. She spent the first month of her life in the hospital. She has one older brother.
Kenny was born in March of 1968 in Martinez, CA. He has one older brother and one younger.
Ruthie's Dad was in law enforcement for 15 years and then went to school at California Culinary Academy to become a Master Chef. Later he taught at the Academy and was pictured in their cookbook. Her Mom was a teacher.
Kenny was raised by his grandparents. He barely passed high school. Went into the Army in '88 thru '92. Went back to school after the service.
Ruthie was married and had 2 sons. Widowed, she raised the boys by herself. Kenny was married and had 2 sons of his own.
Kenny worked in the Sheriff's Department in Contra Costa 1992 – 1999, and lots of odd jobs after that. Ruthie worked at Costco demonstrating products and then spent the next 23 years as Direct Support Professional at Living Opps.
When I asked Ruthie what the most interesting thing that has happened to her, she smiled and said reconnecting with Kenny after 25 years.
They met on a blind date when she was 17 and he 18. They dated for about a year and then he dumped her for another girl. After her boys were grown she started thinking about her first love and began her quest to find him. She did, and they started talking and one thing led to another and he moved to Eagle Point from California and they got married and have been living "happily ever after" since then.
Kenny recalls his serving in Desert Storm as his most interesting event.
Raising a disabled child by herself was her biggest obstacle and Kenny's is overcoming health issues.
Ruthie is very proud of raising 2 sons that are both contributing to society, and Kenny's is the fact he earned his BA in Criminal Psychology (law enforcement).
Both of them say that people should be polite and respectful. Live by the Golden Rule.
Both are looking forward to retirement so they can travel. Ruthie wants to go back to Europe, and Kenny would like to revisit the places he saw while in the military.