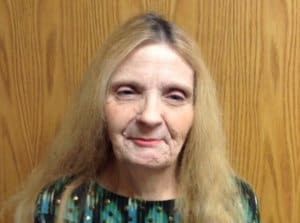 Kathie was born in Torrance, California in 1952.  In 2013 she and her husband moved to Oregon so that he could get a liver transplant.  Sorry to say he has passed.
She has a sister that lives in Clear Lake, California and a brother that passed.
Only one marriage gave her three sons.  They are all normal men.  So glad of that.
Data processing in the school system kept her busy for 28 years.  At the same time she operated a day care from infant to five years for 27 years.
She met her husband at Knotts Berry Farm in 1971 while at a country-western concert.  They met "Chicago" at a concert at Lake Tahoe in the 80's.  Her husband collected every album they ever made.
Losing her vision in both eyes from a disease that went untreated, she underwent cornea transplants and thankfully has her sight back.
She considers her biggest accomplishment in raising her sons – keeping them on the straight and narrow.  Very proud of them.
Words of Wisdom from Kathie are "Always think before you act"
Kathie looks forward to her three grandchildren and 2 great grandchildren.  Loves seeing them.
She loves to play cards and would like to join the Games group when she can find the time.