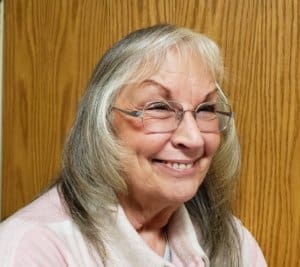 A cabbage patch in San Francisco in 1945 found a tiny little girl with 18 letters in her name.  That's what her Grandmother told her. She was raised by her grandparents.
She has three children, Eric, Cassandra, and Desirae.
When you see her smiling face at the Senior Center, you can't help but smile back.  What a pleasant volunteer in the Thrift Store.  She's the one that has organized all those shelves after they were painted.  She looks forward to coming to the Senior Center every day and can find a bright spot there, no matter how dreary the day might be.  Jeannette thinks our Center is pretty cool.
When she was 32, she went back to college for two years for Early Childhood Development and then taught in pre-school.
Her biggest obstacle was self-doubt and has found that she can face them with a smile along with walking with her Lord.
Wisdom from Jeannette is "be helpful, peace in your being and a joy in your heart".