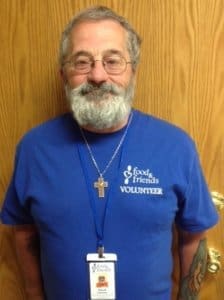 David was born in Fort Campbell, Kentucky in July of 1961.  Being in a military family he lived in many places.  He has one younger brother who is the Sheriff of Oceanside, CA.
Marriage brought him 2 children, a son, and a daughter.  At age 12 his daughter was diagnosed with kidney disease.  One did not work and the other at only 73%.  She had to wait for 13 ½ years to get a new kidney.  Finally, she is healthy.  His son is a loan manager at Rogue Credit Union.
David joined the Navy right out of high school and stayed for eight years.
Their family enjoyed going to sporting events all over the country.
His wife fell mysteriously ill.  Doctors from all over the country could not give them a diagnosis.  It was finally found that she had a rare disease called CJD – no known reason and no known cure.  This is a disease from Germany.  How she contracted it is a mystery to all the doctors.  62 days after they gave the tragic news, his wife passed away.
PTSD has been David's biggest obstacle.  Counseling has taught him how to deal with it.
His biggest accomplishment was collecting bottles and cans that people donated when they learned about his daughter's fight for life.  Trips to Portland, motels, and medical expenses were very high.  Checks even came in to help.
"Trust your God" is the motto that David lives by.
He strives to make other lives better than they were before.  His goal is to bring others to Christ.
You will find David helping at Food & Friends with Larry whenever he is needed.